¿Qué es Pabau?
Pabau es uno de los líderes mundiales en software basado en la nube para gestión de clínicas y prácticas médicas. Miles de profesionales de la salud en todo el mundo confían en esta solución.
Leer más
Gestiona horarios, notas de tratamientos, facturas, pagos, marketing y mucho más. Funciona muy bien para consultas de todos los tamaños, desde equipos grandes hasta profesionales independientes y para todos los demás.
Mostrar menos
¿Quién usa Pabau?
Pabau es una completa aplicación de gestión de consultas utilizada por miles de profesionales de la salud de todo el mundo.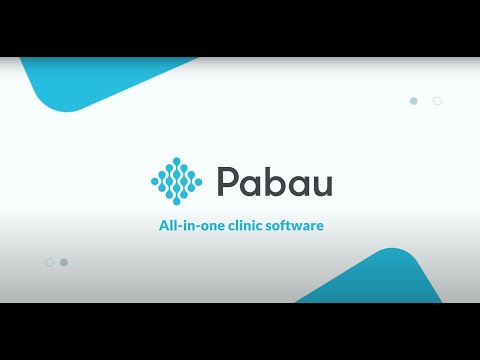 ¿No estás seguro sobre Pabau? Compara con una alternativa popular
Versión gratuita
Prueba gratuita
Versión gratuita
Prueba gratuita
¿Por qué estoy viendo esto?
Bernardo
Founder & CEO en España
Usuario de Linkedin verificado
Práctica médica, 11-50 empleados
Ha utilizado el software durante: Más de dos años
Highly recommendable software for clinics and groups of clinics
Comentarios: Superb
Puntos a favor:
The specific reason for which I selected Pabau is that it has an excellent scheduling feature for multi clinic operations. This was an essential feature for me and is working flawlessly. After that, the training is excellent, [SENSITIVE CONTENT] has been spectacular to help us get into the software.
Contras:
So far nothing really; I would make the CRM section a bit more comprehensive, nevertheless, as we can customise it, it is not an issue at all.
Práctica médica, 2-10 empleados
Ha utilizado el software durante: 1-5 meses
Alternativas consideradas:
Pabau software does most things well
Comentarios: It does most of what we need from a CRM but definitely still have records we are having to keep outside of the software.
Would have preferred a white label service rather than each step my patients take to have Pabau labelling all over it.
Customer support is below par. Should have a live chat or phone line to call.
A lot of training videos are on a Vimeo account that isn't shared with you at implementation, some features and options have been improved and videos not updated.
The step by step guide function for registered accounts doesn't work and the webinars seem very uninteractive. Seems to be a rush to finish within the 3o minute tieframe.
Pabau has account managers, programming and implementation specialists but it's not ideal if you can't sold problems immediately.
A ticket system that shows other client's concerns or questions would have saved a lot of hassle.
User's forums, blogs, FAQs, Q & As are available but not shared when you come on board.
Having a widget isnt suitable for all sorts of web platforms.
Referral tracking is especially difficult when customer processes are handled putside your existing platform.
Would have like to integrate a diferent payment processor rather than being limited to skype
As at noww, Pabau sems the best fit for our business but we are not assured enough to stop looking for alternatives
Puntos a favor:
A lot of features. Before and after pictures A lof of templates to choose from. Support team willing to integrate any pdf form and help customise to your brand
Contras:
Customer support not always accessible. Would have preferred a dedicated number to call, opening hours etc. A lot of communication is via email or a request for a call back. Not suitable when the software isn't responding or you need quick fixes. Price is on the expensive side especially since you will need to pay Pabau extra subs for more staff, sending texts, marketing functions & Api integrations Ipad necessary for patient journeys function
Respuesta de Pabau
hace 4 meses
Hi Oyin, I just wanted to reply back to this review and thank you for your detailed and thoughtful feedback. In particular, your points about better highlighting our educational resources to new users will be actioned upon. I would also like to make you aware that we do indeed have a live chat function. We moved away from phone-based support (though do still escalate to this when required) to a live chat feature because our data showed it to be a more effective method of supporting our customers. However, we will consider if there is a better way of making sure our customers know this support exists. Thanks again for trusting Pabau as your practice CRM and for helping us to get that little bit better with your constructive feedback.
Práctica médica, 2-10 empleados
Ha utilizado el software durante: Más de un año
A LOT of unmet promises
Comentarios: At first it was good. They were helpful. But as things continued to get worse and worse they just kept on making unmet promises. They kept saying they were working on a beta pabau 2.0 so I hung on....but it took over a year longer than what they told me...and they were still working on it when I left. Then once I asked to downgrade to just read only data so I could access clients previous charts,they kept charging me the full amount. It was absurd.
Puntos a favor:
Fairly intuitive and customizable.....but other than that it's hard to say.
Contras:
When I signed up for Pabau I was hesitant because it was located in the UK and I am in the USA. I was assured there would be US support and all features would work, but it didn't. This software is NOT a good option if you live outside the UK. The text messaging component NEVER worked as it should, but they told me it did. I had to run checks every few weeks and tell them it still wasn't working. The time is based on the UK time and so it screwed up appointment times, employee schedules and a host of other issues.The online booking portal was inconsistent and frequently went down. Clients would book and show up, but with no record of an appointment.Deposits for online booking created a HOST of problems with accounting. Peoples deposits wouldn't show up as they were supposed to. Some got deleted. Caused A LOT of issues with people's money which is NOT ok.Their customer support is only available during UK times so good luck if you're in the middle of the workday and something goes wrong-it takes 12-18 hours to get a response.These are just the MAIN issues not to mention a host of other issues that impacted our daily operations. I would HIGHLY discourage any US spa from using this software.
Práctica médica, 2-10 empleados
Ha utilizado el software durante: 1-5 meses
Alternativas consideradas:
Great software! Excellent functionality
Comentarios: Great so far! Online zoom training was really good and helped to answer a lot of questions
Puntos a favor:
Easy to use and figure out. Most things customisable.
Contras:
Forgetting to refresh the iPad after entering records on desktop
Práctica médica, Trabajador autónomo
Ha utilizado el software durante: Prueba gratis
Alternativas consideradas:
New user
Comentarios: Excellent support thank you [SENSITIVE CONTENT],[SENSITIVE CONTENT],[SENSITIVE CONTENT] and [SENSITIVE CONTENT] for your infinite patience and support- greatly appreciated.
Puntos a favor:
Not being very tech savvy at all I was initially very daunted by changing clinic systems but with excellent support from all team members at Pabau they have enabled me to make my transition to Pabau and understand how to make the changes myself and finally feel in control of my marketing, patient's medical records, invoices and calendar bookings. The integration of medical records, consent forms and ease of use i particularly like. I am excited to get to use more features as I progress.
Contras:
Would like the option to be able to hold the I pad when using on the patient journey in landscape view or portrait depending on the stage.
Respuesta de Pabau
hace 8 meses
Thank you so much Sally! We look forward to seeing your clinic grow with Pabau, if you need anything, then reach out on live chat and we will be happy to help! Do feel free to give any idea you have on how to improve on our community page. We love hearing from you! https://community.pabau.com/